Dress for Success

Promoting the economic independence of women in need.
Dress for Success Sydney promotes the economic independence of women in need by providing, free of charge, professional clothing, a network of support and the career development tools. They support women to overcome discrimination and disadvantage, achieve economic independence and thus empower them to take charge of their lives.
2015 Pitch
Funds raised: $15,010
Dress for Success Sydney pitched at The Funding Network in September 2015 to maintain the role for a receptionist/admin manager in its Sydney operation. With the $15,010 raised that evening, DFS has been able to offer continuing employment to Nicole, a working mother and former client.
The impact...
Today, Nicole is no longer defined by a criminal record. Nor is she 'just another part time receptionist'. Nicole is an enthusiastic and tech savvy member of the DFS team, a driving force behind the successful implementation of DFS's stakeholder management system and a valued employee who has leaned into her role to make a positive and meaningful contribution to DFS and the 2000+ women it supports every year.
Earlier this year, Nicole welcomed a new addition to her family - a healthy baby son named Ethan - and returned to work part time at DFS in August. She speaks regularly of how her employment with DFS provides much more than just financial support for her family: it soothes her soul. The quiet strength of DFS clients - and the care and commitment shown by volunteers - is inspiring and truly heart warming. Over the past year, DFS helped 2243 women just like Nicole dress for interviews and employment, distributed 16,500 items of clothing, engaged 1153 women on its employability skills training workshops and conducted 333 mock interviews.
Follow the journey where DFS empowers capable women to take that first step into the job market, up-cycling donated clothing into robes of confidence and independence.....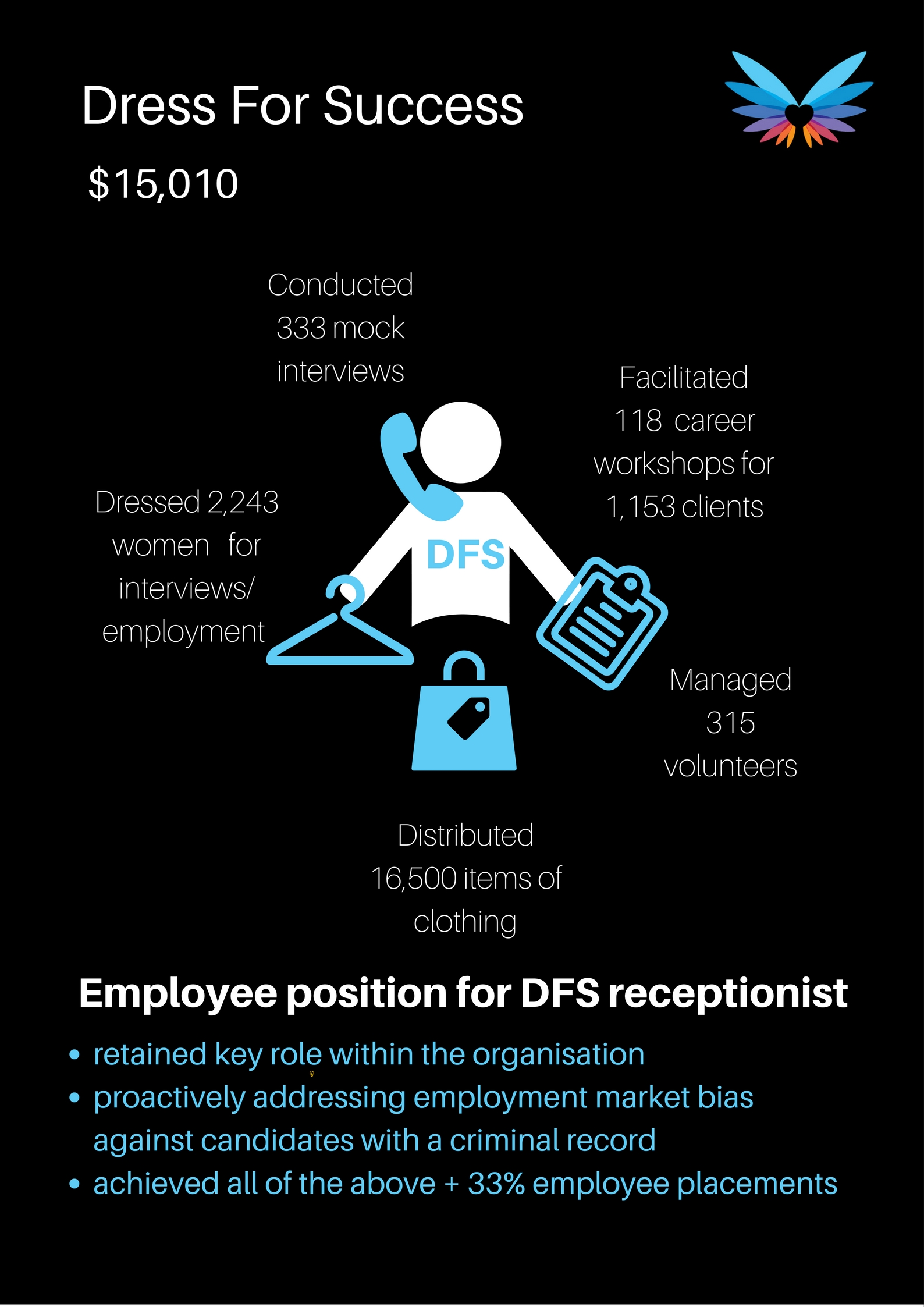 Learn more about Dress for Success.